"Some of my Ragdoll babies with their new families"
and some wonderful Testimonials from some
extremely happy parents!
(Throughout this page)
Just look at this pic sent to me from Jen and Gareth
with their new baby daughter 'Scarlett' and Furr baby 'Lumiere'
(he is not missing out on anything LOL)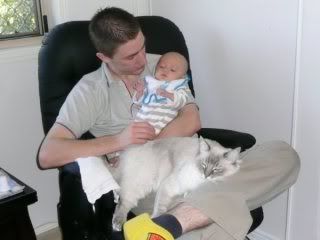 Just shows you how wonderful the Ragdoll temperament is and how gorgeous they are :)
Here is another pic sent to me by one of my very happy families, showing once again
the wonderful, loving, gentle nature of our babies :-)
This is Sharman with his baby brother, who was sick, so he got up, cuddled into him,
to keep him warm and protected, so gorgeous!!!
Here is another pic sent to me from 'SHARMAN'S Family of him with their family dogs, as
you can see he not only loves and wants to protect his little baby brother, but also loves the dogs!
What a beautiful boy he is :-)))
This is the email, below, that they sent to me with the pics of him with his Canine brothers
Hello Beautiful Debbie...
Just wanted to let you know that your Gorgeous Boy Sharman is 3.4 Kilos as of the 4.7.11
He is eatting us out of house and home...we find the best way to keep him happy is to leave
a constant dish of chicken with his Royal Canin dry food out so he can contantly graze....
Sharman is such a devine soul, we are all in awe of his gentle nature and his endless affection...
Our two dogs Page and Honey absolutely adore him too, they all cuddle up together to sleep...
Thankyou for nurturing such a Beautiful Boy...We Love him soooooooooo incredibly much...
Much Love ...
Katherine, Neil, Paddy and Cian XXX

Please read below, and at the bottom of this page - some lovely Testimonials from some
very happy new parents!!!
Here is one sent to me today 25/8/2010
From Kathryn Coomber, a very happy Mummy :-)
Dear Debbie......Congratulations to you, Stephen & Pascal on his winning weekend! Fantastic and well deserved. What a let down that NZ woman judge from NZ was at the Ekka. Clueless.

Well, I just have to let you know how marvellously our boy is doing. He is hilarious. Full of the joy and love of life, funny, cheeky and very intelligent. He is fast gaining weight and growing before our eyes. He's in a great routine with us and he is the most joyful little creature we have ever encountered. All that love he radiates, purring most of the time and he loves all his favourite areas of the house to snuggle in (he's currently on my bed having a post-lunch snooze). Gobbles up all his meals and has every corner of the unit suss'd out. He is right at home. His training at your hands Debbie has been marvellous. Not even one mishap with the loo -nothing! All fabulous.

I'll keep in touch as I'm excited to tell you his great progress and especially the deep happiness, love and wonder he has brought to us.

talk soon
love kathrynxxxx

Here are a couple more wonderful emails sent to me by people
who do not even have my babies
Hi debbie, l found myself pawing over your website again! All I can
say is > Breathtaking!! Your babies are sooo beautiful! Thank you for
sharing them! And congrats with all your awards!! Thats fantastic news!
Kindest regards
Kimene
x
Dear Debbie.
Our names are John and Joan Hooper from Pelican Waters and we are the people you and your husband so kindly befriended yesterday at the cat show. We thoroughly enjoyed our selves and we both learnt so much. On the way home we bought some fresh meat and gave our boys a little treat. They were at first unsure of it but this morning we gave them the tiniest bit more and they ate it after looking at it for a few minutes. We have noted not to cut the hair on their feet, we felt terrible about that and we bought a better type comb same as I saw your husband use. We cannot thank you enough and were so appreciative of your assistance. We love our two boys, Mozart a blue mitted and Shakespeare a seal point. We waited 18 months for them and they are now 21 months. We paid top money and we have papers and as devoted cat lovers we sent a few emails in the early stages of their progress to the breeder and just got a one sentence reply so that situation has now well and truly ceased and we were starting to loose faith until it all changed yesterday. From the bottom of our hearts we thank you both sincerely for helping us rekindle the ragdoll love and we wish you well with your continued endeavors in the cat breading arena. Kind regards John and Joan.
Here is a lovely email from Wendy and her family, in NSW, and some pics of their new babies
sent to me on the 9/2/2011
You can see how much loved they both are and how well they have both settled into
their new loving home with their wonderful family.

Hi Debbie
Just thought I'd give you an update. The bubs are doing well. They are both eating really well and seem to be enjoying themselves. They are constantly going from one to another in the home - if Anthony is studying downstairs and Chris upstairs, then one seems to be with one and the other little one with the other - then they swap. They think the stairs are just the best playground!!! I'm having mini heart attacks when I see the speed they are now racing up them! However the boys are good with them and steady them down by sitting on the stairs to distract them from chasing each other up and down. I think they have now found and discovered every nook and crany in the entire house. They have free run of the house and I have now put a litter both upstairs and downstairs, just in case, and it is working well. At night they have not quite decided with whom they like to sleep so they are moving from one bed to another during the course of the night. We are all enjoying them enormously and they have delightful characters - full of fun and very intelligent as well. They are everything we hoped they would be and more - thank you so very much for breeding such beautiful creatures and thankyou for allowing us to adopt these two in particular. With lots of love. Will be intouch again shortly.
Regards,
Wendy
I received this pic and email from Annette and her family on the 5/3/2011
This is our Sapphire Rose's beautiful daughter JAHZARA ROSE at 12 months
Hi Debbie,


Hope you are well.
Jazzy Rose as you can see from the photo's is an extremely loved
cat. She is just gorgeous and has the most beautiful nature. She basically
walks, drops and rolls
waiting for a big cuddle and of course she gets it.
We can't believe that she never meows and the few times that she has it is
like a little squeek (so cute).
Hope you enjoy the photos and once again thank you for Jazzy Rose. She is a
very special part of our family.

Thanking you,

Annette Doyle
I also received this wonderful email on the 7/3/2011
from another extremely happy family
Hi Debbie,

Just wanted to let you know that Napoleon is the most gorgeous, gentle
and affectionate kitten we could have ever asked for!!!! We don't know
how we lived without him in our lives till now.

Thank you for giving us the opportunity to take him home with us. We
truly do love him. As you can imagine, he and Josephine are already
inseparable....

I will keep you updated on our progress. I am sure I will have questions
in the future too to ask you as our expert because we want to make sure
we do everything perfectly!!!

Thanks again.

Love and hugs from us,

Damien, Celia, Josephine & Napoleon. Xoxo
and another one from them
again today 8/3/2011

We will most definitely keep in touch Debbie.

We were saying last night how lucky we are to have Napoleon and that we
think he couldn't have ended up at a better home - he will always be
cuddled, adored and spoiled here.

He is a credit to you as a breeder!!!

Thanks again and our heartfelt appreciation.... xoxo
Celia Vasta

Kristen with her two babies This is Michelle with her two babies
Aslan and Katisha Noah and Bella
This is Judy and Peter with their baby girl This is the lovely Winen family, they are like my own family.
Misty-Rose This is them with their first two babies Mr Darcey and Mr Bingley
they now have 5 of my Ragdoll babies and absolutely adore them all.
This is Suzie with her little girl Princess
These two boys are the sons of Ron and Gaby
but their Son came the day that they picked them up
and he just adores them.
This is Spartan and Valentine
This proud mum and son are Lindel and Daniel with
their new baby boy Caspian
This is Sally with her beautiful boy Martok
This is Sue with the precious Eddie
Sue sent me this email today, 30/10/2008, I was just so elated to receive it that I thought you
might all like to read what Sue has had to say to me and about her little baby boy Eddie!
Hi Deb,
Just wanted to let you know how Eddie is. What can I say? He is the most beautiful boy ever, and has become my life. I think we are attached at the hip, where I go, he goes. Eddie is my comfort at night, and my companion by day, and is so affectionate, loyal, and cuddly. A big boy too! Thank you again Deb, for bringing into the world such a little star. As soon as we have our Christmas pics done, I will forward you the latest portrait of our lad. I hope all is well with you and your family,
Regards, Sue Lane.


Sarah, Wayne, Mitchell and Jackson with their two babies "SAPHIRA-ROSE" and "DONATELLO"
Here is a pic of Wayne with his new baby boy LEONARDO
He sure is a very proud Daddy :-)
You can see here just how much LEONARDO loves his Daddy as well
Here is the email that these pics were attached to
Hi Debbie, here are the photos I was talking about, I have a feeling there will be so many simply gorgeous photos to come. Leonardo has the most amazing temperament and has just captivated us all, truly a special Lion Heart. Our Love Sarah.
It is such a wonderful feeling
to fill peoples lives in the way that mine is filled with my precious Ragdolls
everyday!
Desiree with her new baby boy "RAJA"
There is another pic to come - This is Sandra and John with their two babies
"MEMPHIS and ELVIS"
Memphis is the seal bi colour and is John's baby boy and Elvis is Sandra's baby boy
Here is Memphis and John his Daddy
This is the gorgeous little Taylah with her very own special baby "BACI"
whom she named herself.
Here is Jennifer with her gorgeous baby girl "INDAH"
This is Debbie Smith with her gorgeous baby boy LUCKY!
Here is Kathy with her beautiful little doll TALITHA
I got this lovely email from Kathy
Hi Debbie,
Talitha is just wonderful,she is a real mummies girl, vert cuddly.I just luv her so much,and she has grown heaps.
I will try to get some photos to send you so you can see how she's grown.
Any way thankyou again for such a beautiful little girl. Will get those photos to you as soon as I can.


Kind Regards
Kathy Kilvington


Here is Alison with her two baby girls Fleur and Bijou at 13 weeks
Alison sent me this email, below, telling me how happy she is with her baby girls and
how they were settling in!
Hello Debbie,

The girls are settling in really well now and we have had no trouble with their tray – beautifully trained by you - Bijou has to tell you when she is using the tray so you can go and tell her she is a good girl! LOL Fleur is much more quiet and very cuddly, Bijou is always on the go playing and exploring and no time to sit quietly!! Fleur came of her own accord last night and sat on my lap while we were watching TV she purred and purred and was just gorgeous. Fleur also really likes her food and when I am preparing their chicken she is trying to climb up my leg and cannot stop purring!! Bijou is a much smaller eater but is doing well. Both of them have grown in the first week here but Fleur is definitely the bigger cat.

I can't tell you Debbie how lovely they are (you probably know that already!) but they really are the most gorgeous cats I think I have ever had, I just love them to bits! Thank you again and I will keep updates coming for you on their progress. Will try to get some more photos but they don't sit still for long at the moment!!LOL

Have a great New Year and all the very best from us to your family and all your lovely girls and boys.

With Love

Alison Fleur and BijouJXXXX

This is Paula (below) and her baby boy "Churchill"

He is a seal bi colour from Satine's second litter
Here is Leasa with her beautiful boy "JACOB"
Here are some recent pics of Jacob, now at 7 months
What a gorgeous big boy he is!
Molly with her Mum Donna and her sisters
This is Missy with her new family
Here is Kieran and his family with their new baby girl
Here is Christine and Ivan with their beautiful boy "KANUT"
Here is an email I received from Christine, letting me know how happy she is with her baby boy
Hi Debbie

I don't know how to thank you enough for letting us have Kanut, words just cannot describe how wonderful he is and how quickly he has become part of our family. I have never seen a cat so playful and yet so affectionate and gentle at the same time, he has simply stolen our hearts.

On Saturday night it was my mother's birthday and there was about a dozen people here (including my family) I was worried how he would cope with so many strange people but I should have know better, he stole the show. He ran from person to person knowing who would give him a cuddle or who would play with him.

During the day when Ivan and I are working he is either running around playing or asleep on our desks. We have wasted many hours watching him play, he is just a delight to have around. He loves being around our two sons Matthew and Stuart and is just as happy playing with them or sleeping cuddled up to them as he does with Ivan or I. He is an incredibly quick learner, we did everything you told us with the litter trays and keeping doors closed so spaces were not too overwhelming for him, it has only been a week and he has the run of the house and he knows how to find us and where everything is.

I truly thank you so much you have given us a truly remarkable kitten.


Kindest regards

Christine Law
Here is an update, some gorgeous pics of KANUT at 12 months, wow doesnt time fly and how BIG they get
Here is Oscar with his new Mummy and Daddy
Just look how happy they all are :-)

Just look how relaxed Oscar is in his new home
Here is Precious with his new Mummy Karyn
This is the gorgeous Moriah with her new baby boy "DANUBE"
Here is an updated pic of Danube at 6 months, isnt he just gorgeous. :-)
Moriah and her family also adopted the gorgeous Hudson, a seal mitted baby boy
Here is a pic of Hudson at now 7 months
And here they both are, Hudson and Danube in the scratching post together
Arent they just gorgeous :-)
Here is Jenny with her beautiful baby boy PUDDING
Here is a pic of the gorgeous PUDDING now he getting to be a big boy :-)
This is Claudius and Maxamillion with their new Mummy and Daddy
These are Sapphire Rose's and Sakima's babies

Here is a pic of Claudius and Maxamillion together, at 6 months of age!
Just look how much they have grown
Erin and Jonno with their two beautiful boys Raphael and Pablo
Here is the beautiful email, below, that Erin sent to me, telling me how happy they are with their boys!
Hi Debbie,
Just wanted to let you know how the boys are doing, and send a few pics for you (I think they've grown a fair bit even since thursday)!
I am SO glad we got them together at the same time, they're thick as thieves running around the house together...when one goes exploring and realises the other isn't with him he starts meowing and the other one comes running! It's funny to see :) They have been sleeping a lot of the day but at night, the ping pong soccer tournament starts!! lol
We also have one of those tunnels with holes in the side which they LOVE, they can hide from each other and pounce when the other least expects it. They play-fight a lot, but they cuddle up with paws touching just as often :) At the moment they're next to me on the lounge, sleeping back to back.
Both boys are eating well, my favourite pet supply store stocks the Nutrience so it's pretty handy. Do you feed yours turkey mince? We got some but they seem to like the chicken and beef better.
We are both absolutely besotted - we're really enjoying just having them around, it's lovely when they jump up and nuzzle into you, purring! Raphael sounds like a motorbike but Pablo has a much softer purr. I think Raphael is also the leader - he is always the first to try something new, and Pablo just watches for a minute before joining in. Pablo is also much calmer, he is more content to sleep on us whereas Raphael is always looking around for mischief :) I love it when he leaps from one toy to the next, attacking without warning! It's like he can't decide what to do but SOMETHING is going to cop it! hehe
Raphael also licks us quite often with his rough little tongue, but Pablo never does - and they both 'knead' when their tummies are being rubbed..they seem to enjoy it a lot! They're very different to each other but equally gorgeous and we adore them both. They're soooo soft and cuddly! I'm glad they like cuddles because I find it hard to leave them alone..hehe
They are so much fun to watch, we just play with them for hours at a time getting nothing done :) They're hilarious!
I clipped all of their claws the other day while they were dozing no trouble at all, they're very comfortable being touched, thanks to you! No 'accidents' either, we only have a small place but have set up one litter tray in our bedroom and one in the lounge (no smell!!! thank you thank you thank you!!!) and they're great at using them. We flip a coin to see who 'gets to' clean out the trays each day :)
You do an amazing job rearing kittens that are not only healthy and beautiful with lovely personalities - but they are fully toilet trained and don't destroy any furniture! You are an absolute Godsend, and we both thank you so much for sharing your babies with us. It has been a very easy transition from a 'petless' household to one that has many more smiles and cuddles, without any dramas whatsoever. I will keep in touch, and send regular pics of the boys. I am sure they will both be VERY handsome and something tells me they will also be rather large!! hehe
I hope all of your other babies are doing well and that Chilac is healing quickly,
Talk to you soon,
Erin, Jono, Raphy and Pablo xx
Here are some pics of Raphael and Pablo now that they are big boys!
This is Pablo, just look at his gorgeous eye colour :-)
This is the gorgeous Raphael
And here they are together in their beautiful Red Chair!
This is Chelsea with Tilly
Ragdoll Cats are Beautiful, Affectionate, Charming & very Addictive
Breeding these beautiful Ragdoll babies, also gives me the chance to share the joys of
owning a Ragdoll Cat and having them be a special part of your family,
with some very special families.
Below are some lovely emails sent to me from some of my very very happy families!!!
A lovely email from Suzie and her Mum Karen
HI DEBBIE;
JUST THOUGHT I WOULD DROP YOU A LINE, ABOUT OUR PRINCESS.
I NEVER THOUGHT THAT SHE WOULD BRING SUCH HAPPINESS TO OUR HOUSEHOLD.
WHEN WE GOT HER BECAUSE WE ONLY HAVE OLDER CATS WE EXPECTED HER TO ACT THE SAME. (NOT)
EACH NIGHT SHE PUTS ON A FLOOR SHOW FOR US, AND NO MATTER WHAT T.V. SHOW WE ARE WATCHING WE CAN;T HELP BUT WATCH HER.
SHE FOLLOWS SUZIE EVERYWHERE SHE GOES, AND SHE KNOWS HER NAME. WHEN WE HAVE VISITORS SHE STEALS THE LIME LIGHT, AND WE HAVE BEEN TOLD THAT AFTER THE VISITORS GO HOME THE KIDS ASKS THEIR MUMS WHEN CAN THEY GET ONE. WE COULD NOT BE MORE HAPPIER WIITH OUR LITTLE PRINCESS, AND SHE IS A CREDIT TO YOU BECAUSE OF HER BREEDING AND TRAINING. WE ALL FEEL THAT WE ARE BLESSED TO HAVE HER IN OUR HOUSE HOLD. BECAUSE ONE SO SMALL CAN BRING SO MUCH JOY.
THANK YOU FOR ALLOWING US TO BE A PART OF PRINCESS' LIFE.
KAREN and SUZIE
Hi Debbie!
Sorry it has taken me so long to reply, we've had a big couple of weeks and I'm only just getting the chance to write back and let you know how the boys are doing :)
Firstly, Raphy and Pablo are THE most awesome cats in the entire world (not that we're biased) - we just can't believe how much they enrich our lives. They are so different to each other, and the four of us are really enjoying working from home all together! The cats don't like us working on the computer so much, they often try to delete files and put caps lock on but if we give them cuddles they will normally curl up on the desk with just one little paw on the keyboard! ;)
They're both close to 4.5kg now, they look about the same size as a regular cat but we know they will get much bigger...
Raphael does the 'kneading' thing to me every night. I have done a lot of research on it and it seems quite unusual to do it in the middle of the night and on my neck and back - but I love the massage! hehe
He kind of goes into a trance and seems very happy, and is very cuddly all night (they usually go to sleep at the end of the bed at my feet, Jono is too tall!)
Pablo comes when called, and is a cheeky boy. He always tries to eat whatever Raphy is eating, and if Raph is getting cuddles he will just walk up and lie on top of him! They are very affectionate with each other, we're SO glad we got to take home brothers. Pablo is also the one who will lie on his back, paws in the air and wriggle around until you rub his tummy...I think his lack of modesty embarrasses Raphy who lies on his tummy with his paws over his face! :)
They both love being high on the top platform of their cat tree, because it allows them to pat unsuspecting people on the head when they walk past, and bat the other cat if he happens to fall asleep on the platform below!
They are just the most wonderful cats Debbie, every day we marvel to each other about how lucky we are to have been blessed with our boys.
I have a lot of photos on my iphone to upload, but I smashed the screen accidentally last week and have had to send it away for repair. I will find my camera cable and get some photos to send you tomorrow.
I hope everything is going well over there at Ragdoll Central!
Lots of love,
Erin, Jono, Raphy and Pablo xxx
Another one from Judy and Peter
They have Misty-Rose
Hi Debbie,
She is very bonded with both Peter and I. We love her so much, our hearts just melt a hundred times a day.

We totally love her, she is everything we always dreamed of....
Judy x
From the Winen Family
Hi Ya my friend, just an update for you. Darcey and Bingley are all settled in now and having the time of there lives!
I absolutely adore my
Boys Deb, I can't thank you enough
I am now the proud owner of
2 very special babies, I plan on sending pictures to you soon, I am still fairly new at that you see.
From all here in the Winen Family.
This one is from Michelle, she has waited anxiously for her
two Ragdoll babies,
and her life is now almost complete!!!
Hi Debbie,
I love them so much and I love having them here – although its only been a few days, it seems like so much longer. I love looking after them and seeing what they are doing and everything… I love the way the follow me around and their cute little meows… And they have both been purring so much… Noah is on my computer desk and Bella just jumped up on my lap… They must know that I'm emailing you and wanted to say hi J

I definitely wont want to go back to work J This is so much fun…

They are good kids – but then they had the best start growing up with you!

Have a good day,

Michelle

Suzanne Lane

Hi Deb, Eddie photogenic as ever and gorgeous and cute and cuddly and sweet and crazy and loving and lovable and affectionate and well......... PERFECT! what a gift he is. Bless you Deb.

Ahhhh, the power of an Eddie. Eating,playing and sleeping like a trooper. He sends his nanny and poppy love and hugs. take care Deb, love Sue.

Hi Debbie and Stephen,

As you know we could not be happier with the way Saphira-Rose and Donatello are settling in. They are so gorgeous, already we can't imagine not having them around. They are having fun playing with the boys and each other at the moment.(so pleased to have them both together).

Our thoughts and best wishes

Sarah, Wayne, Mitchell and Jackson.

Hi Debbie
Rajah has settled in well he has a very healthy appetite and is slowly
getting to know his way around the house. He is absolutely beautiful and
loved dearly by everyone. Thank you once again for my beautiful baby boy he is already bringing so
much joy into the family, he is so affectionate and loving. In a couple
of weeks I will send you some new pictures.

Best wishes
Desiree


Hi Debbie,

I just wanted to drop you a note to let you know how Brioche is settling into her new home J

We are so , so happy to have such a special baby! Brioche is an absolute doll, she really is the most adorable loving kitten I have ever met! On the first day when we got home, we took her to the room we set aside to help her to settle in, she was so curious and playful, took it all in her stride and was happy to be left to make herself at home. I kept checking on her and got rewarded with a lovely cuddle from Brioche each time!, She has settled in so well already, her personality is really starting to shine through, she likes to sit on my shoulder/chest/neck while I am typing on my laptop, she is just so affectionate and purrs and cuddles up. She has also started to approach Elise more, Elise in turn is learning to let Brioche come to her ... as you can probably tell, we are absolutely enthralled by her! I will take some photos for you over the next few days!

Thanks so much for such a special little baby!

Kindest regards

Rachel

Just look at this, this has to be one of the most gorgeous things that I have ever seen!!!

This card was made and written and sent to one of my kittens in the post, from her prospective new Mummy's to be

Melissa and Aiesha